Skipp's Stud
Breeders of Continental Giant Rabbits and French Lops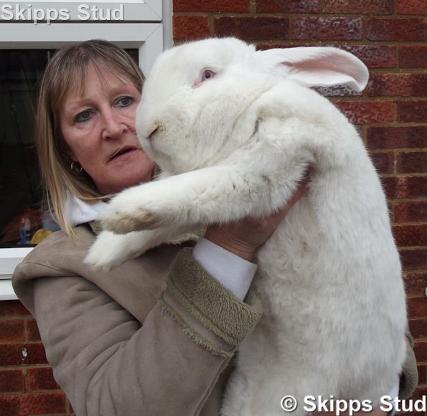 Recognised Colours for Continental Giants
Black, Dark Steel, Light Steel, Agouti and Red Agouti, Opal, White, Yellow, Chinchilla and Blue. The Whites can have red or blue eyes although the blue eyed Conti is somewhat of a rarity.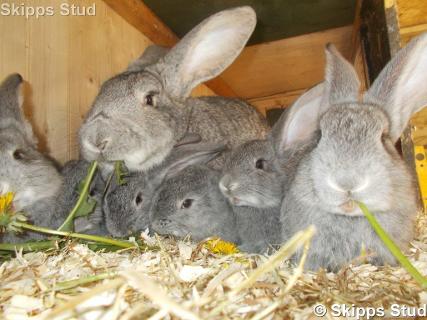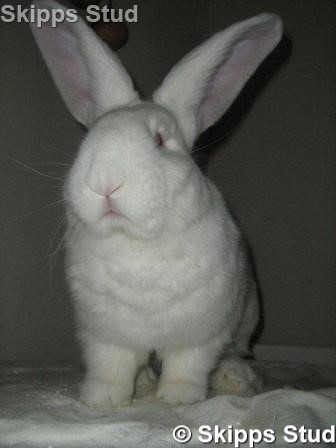 About Us
We at Skipp's Stud are established breeders and exhibitor's of Continental Giant Rabbits and French Lops and are based in Ripley, Surrey and we are registered with the
We pride ourselves in producing true to type big chunky stunning babies. Our babies are treated like our children as our own children have now flown the nest. These rabbits have become our surrogate babies. I was a Veterinary nurse for over seven years but unfortunately had to change my vocation when I became ill and wasn't allowed to work alongside infection.
I was known locally as the vet lady as I would always bring home all the waifs and strays and take in all the unwanted and sick animals and nurse them back to health.....anything from a bird to a Great Dane. I used to Breed Great Danes but found it too much with young children and rescuing so gave it up as i was running out of room. I now breed Lhasa Apsos along with my beautiful Contis although my Contis are my main concern
We often have kits available but if not we will be able to advise you of our next planned litter(s)we will always add you on our waiting list or if you are after a colour that we don't breed we will gladly put you in touch with other reputable breeders that are known to us and are as crazy about their bunnies as we are
These beautiful giants are renowned for their gentle and wonderful temperaments and make the most wonderful pets
We are always here to answer any questions or advice, no matter how big or small it sounds to you, if it's important to you then it's important to us .
Not only do we breed Continental Giant Rabbits we also breed and show French Lops.
The main colours that we breed are
Agouti, Steel, Chinchilla, Red Eyed White (REW).
©www.skippsstud.co.uk All Rights Reserved 2012